SERVICE
As the business environment changes ever more rapidly,
communication tools have become an important issue among businesses.
AI CROSS proactively brings about technology innovations and
creates efficient communication infrastructures based on prediction models utilizing
machine learning to create new communication values.
CONCEPT
Smart Work brought about by
gathering information.
A new connection accelerated by
Smart AI Engagement.
Service information on different channels and applications have traditionally been tallied and analyzed by type of service. To date, there have not been enough steps taken toward business improvement, enhanced productivity, and reinforced engagement with clients from a higher perspective.
With the Smart AI Engagement concept that AI CROSS promote, we collect all manner of information found on technology channels, including messaging services, such as business chat logs, Short Message Service (SMS) and Rich Communication Service (RCS), as well as attendance and personnel information and other data found on the internet. Then, we multifacetedly analyze, learn and predict data using AI technology to create new engagements between businesses and employees or businesses and clients that could not have been achieved previously.
Creates new engagements by collecting information
that does not have a strong enough effect based on analysis by individual channel, and analyzing,
learning and predicting data using AI technology.A next-generation service concept:
Smart AI Engagement " Smart AI Engagement "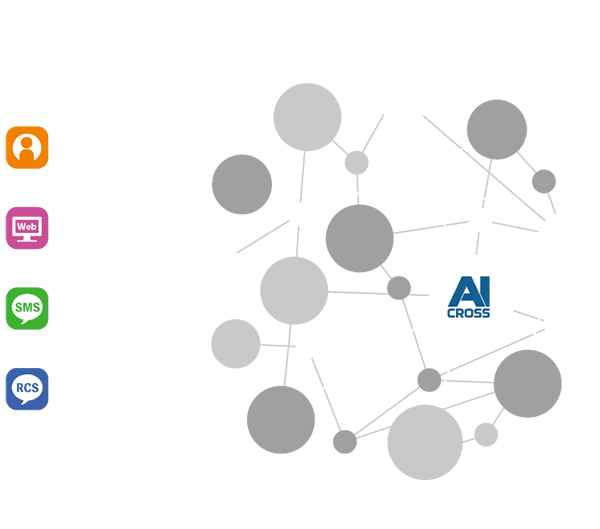 Facilitates smoother communication
through a two-way service

SMS

Allows for intuitively connecting
with users through images,
sound and videos

RCS

Allows for speedy business-related
communication and information
sharing in a simple way

CHAT

Improves business productivity
and efficiency without
relying on intuition

AI Analytics
AI CROSS has provided various business-specific services to achieve Smart Work.
We will continue to strive for further improvements of business efficiency and
productivity through synergies created by each service,
and to develop services and solutions that realize Smart Life for people who work for businesses.
Zettai-Reach
SMS
An SMS (text message) sending/receiving service for businesses.
Compatible with all cellphone carriers for versatile business operations
Zettai-Reach SMS, which connects businesses and clients, features our unique system-coordination method using HTTPS.SMPP (v3.4) API, which is compatible with all carriers. Seven SMS plans are available based on the tasks and purposes of a business. This service is perfect for various business purposes, such as basic use for contacting clients or sharing information with clients, or as a replacement for conventional direct mail in paper form that allows you to verify the message open rate, personal authentication, and the making/receiving of payments.
HYOUMAN BOX
HR management service specialized in "Human Skills"
Isn't your company conducting intuition-based HR management? Personnel mismatch is often observed due to subjective judgement relying on HR staff's experience/intuition or excessive focus on technical skills. HYOUMAN BOX will bail you out of intuition-based HR management by quantifying personality/company culture and adding objective personnel judgement data.